Pet Hedgehog Care - Traveling
---
My experience with hedgehogs has been that many travel really well and will sleep for most of the trip as long as you prepare. The less change there is from their normal environment and routine, the better your hedgehog will handle travelling. I recommend keeping their time schedules the same (despite time zone issues), bringing water from their normal source, and their normal food, wheels, bedding, etc. If your hedgehog's cage is not portable, start introducing them to their travel cage (the one you will use at your destination, not the travel carrier) beforehand so that the cage is not "new" to them.
---
The travel carrier
I recommend purchasing a pet carrier that can be strapped into the seat of your vehicle. Pet carriers are designed to provide adequate ventilation, and are usually easily recognizable, so that if you should get in an accident, emergency personnel will recognize the carrier and help your hedgehog too.
Hard-sided vs. soft-sided carriers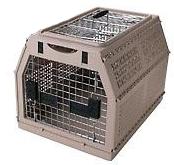 There are several benefits to purchasing a hard sided carrier. They are usually ventilated on all sides, so that if two sides are blocked, there will still be plenty of air flow. Hard sided carriers can protect your pet from any items flying through the air should you have to stop suddenly or should you get in an accident. They often can be securely buckled into your vehicle. The major downsisde of hard-sided carriers is that should you have to stop suddenly, or if you get into an accident, your hedgehog will hit the hard wall of the carrier. You can prevent this by adding padding to the inside of the carrier to cushion it. A soft carrier will prevent this, but also will not protect your hedgehog against flying debris.
While I recommend getting a travel carrier made specifically for pets, there are a variety of other items that can be used in a pinch.
12-quart Sterilite box: Line the bottom of the box with a thick layer of bedding, so that the hedgehog doesn't slip around, and to soak up any urine. You will need to punch holes in the lid and preferably along the sides of the box to provide adequate ventilation.

Small plastic carriers: These are the small carriers normally found near the fish supplies in the pet store. They are sometimes called small animal plastic aquariums. I have seen some mention of people using these to travel their hedgehogs. I would only recommend using these for very short distance travel as they are small and certainly don't give the hedgehog much room to move around.
Whichever travel carrier you choose, always ensure that your hedgehog's carrier is safe, comfortable, and has plenty of ventilation.
---
Travel by car
When traveling by car, it is important to ensure that your hedgehog is secure. I highly recommend buckling your carrier into the back seat of your vehicle. Back seats are often the safest location in your vehicle should you get into an accident. Never place your hedgehog's carrier on the car's floor, as the floor can be extremely cold during the winter or hot during the summer, and the ride on the floor is very bumpy, making travel sickness more likely.
---
Travel sickness
Many hedgehogs travel extremely well. There are some, however, that will get travel sickness. Try starting out with short drives to get them used to being in the vehicle. Add lots of soft padding to their carrier bottom to help cushion the ride. Most importantly, always remember you have a hedgehog in your vehicle and drive carefully to avoid sudden stops, swerving, or anything else that may upset your hedgehog. For them, a car ride can be like a roller coaster!
You should always have a spare set of liners for your carrier. This is very important should your hedgehog get travel sickness, or has a green or loose bowel movement. Carry tissue or baby wipes for cleanup and ensure that your hedgehog drinks plenty of water afterwards. Vomiting and diarrhea can cause dehydration and make your hedgehog even more ill.
---
Weather and temperature
Before traveling, always be aware of the temperature outside and inside of your vehicle. Hedgehogs do not tolerate sudden changes in temperature that well. If you have a good heater and air conditioner in your vehicle, use it to keep the air temperature in your vehicle in your hedgehog's comfort range. I use a wireless temperature monitor to keep tabs on how comfortable my hedgehogs are. Placing the base unit in the front of the car and the remote unit next to my hedgehog's cage gives me the ability to watch the temperature and still keep full attention on the road ahead.
On hot days always keep your hedgehog's carrier out of direct sunlight and also keep it away from the air conditioning vent. As with any pet, NEVER leave them in the car unattended. Even with the windows rolled down, your hedgehog can quickly overheat and suffer heat stroke or death. It is always a good idea to take something your hedgehog can get a drink from as well, as you never can tell when something may come up (i.e., your car breaking down).
Traveling during winter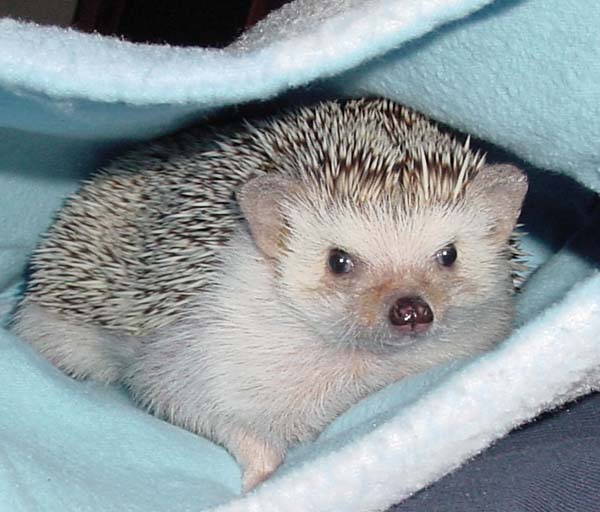 The following article was written by me and originally published in the International Hedgehog Association's newsletter and has had minor updates over the years:
It's now the middle of winter and so far you have had no problems with keeping your hedgehog warm. But, during playtime tonight, you noticed your hedgehog is not acting well. The symptoms don't really matter at the moment. The fact is, you now need to take your hedgehog to the veterinarian, and its well below freezing outside. How do you keep him warm?
There are many ways in which you may approach this task, and each method may have the same final result (a warm hedgehog). Below are some suggestions and ideas to help you travel safely.
Tip 1: Provide plenty of layers of bedding in the travel carrier. I use a hard sided collapsible carrier to transport my hedgehogs. In this carrier I place several layers of either cage liners or fleece/flannel blankets for them to crawl under, and a cloth bag to snuggle in. These two together will provide a soft, cushioned layer of bedding to help your ailing hedgehog to remain comfortable, and will provide your hedgehog protection from the cold air.

Tip 2: Use an external heat source in the hedgehog's carrier. I like to keep a 'Snuggle Safe Heat Disc' in the car with me in case we need an emergency source of heat, or in case I cannot keep the cage warm enough with the car's heater. Having a heat source that will last for many hours is a necessary precaution, in case your car should break down or some other problem prevents your timely arrival at the veterinarian's. Please remember that whatever heat source you choose, to wrap it in a towel or a cage liner to prevent possible burns, and that there is space in the carrier for the hedgehog to get away from the heat. Here are some possible heat sources:

Snuggle Safe Heat Disc - A microwavable, pink plastic disc now being carried by several chains (including Pet Supplies Plus and PetSmart) as well as many smaller stores and online retailers. This disc will provide heat for up to 12 hours.

Disposable hand warmers - These are plastic pouches that, when an internal capsule is broken, will release chemicals that mix and produce heat. They are commonly found in the hunting/fishing section of sporting goods stores. Depending on the type you buy, they can stay warm for anywhere between 2-12 hours.

Rice or buckwheat bags - For a quick, homemade hand warmer, take a large cotton sock, fill it with rice or buckwheat, and tie a knot in the end. You can also sew the end for a permanent bag. Warm the bag in the microwave for about 90 seconds, and you will have a homemade heat source. Rice bags may stay warm for 1-2 hours. Warning: A warmed rice/buckwheat bag may smell enticing to a hedgehog. Please watch to ensure that your hedgehog does not try to bite/dig at the bag to get to its contents. If your hedgehog does, remove the bag immediately and use a different warming method.

Hot water bottles - There are quite a variety of hot water bottles, from the old classic versions one sees in old movies, to those that never need to be filled and are microwavable, and even an electric version, on the market today. The amount of time one stays warm will vary, with approximately 1-2 hours the average.

Tip 3: Insulate the hedgehog carrier. I recommend wrapping the carrier with a blanket or towel when transporting the carrier between your car and the building. This will help prevent cold air from reaching your hedgehog, which could result in a chill.

Tip 4: Do NOT place your hedgehog's carrier directly in front of a heat vent. While this may sound like a good way of keeping your hedgehog warm, it can cause your hedgehog to overheat rapidly, leading to a much more severe problem than the original. This also applies to direct sunlight.
These tips should help you travel from your home to the veterinarian's office, and back again, while keeping your hedgehog warm. Having a plan of action should you have to travel during the middle of winter, before it becomes a necessity, is, in the opinion of this author, the only way to help ensure the health and well-being of your hedgehogs.
---
HOME